Ian Wright was brought up in Wales, and his first musical experiences were through the church choir which he sang with from the age of 4. He took up the violin when he was 9, and went on to receive a classical training at the Welsh College of Music and Drama in Cardiff, the Guildhall School of Music in London and City University, where he studied for a BSc (Hons) degree in Music.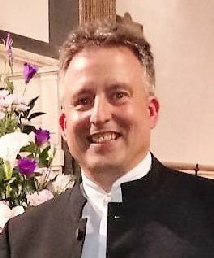 He also has a degree in Theology from Oxford University.
After 13 years as a Minister in the Church of England, Ian is now works full time on his musical activities and teaching. Ian has sung with many choirs including in Cumbria the Wordsworth Singers and Ensemble Buxtehude. He has appeared as soloist at both Carlisle and Lanercost festivals, and with Cumbria Rural Choirs, Ambleside Choral Society, Cockermouth Harmonic Society, Keswick Choral Society and West Cumberland Choral Society. He is also a versatile violinist, playing with the Folk duo Fain and ceilidh band Thrice Brewed, and teaches Violin in schools in north and west Cumbria for Cumbria Music Service. As well as Cockermouth Harmonic Society, he also directs Wigton Choral Society and Cumbria Rural Choirs.